We are planning on running the
Pilwarren Maslin Beach Nude Games
again on
Sunday 17th of January 2016
Watch this space for details!
Click here to see picture of the 2015 Pilwarren Maslin Beach Nude Games
2015 Pilwarren Maslin Beach Nude Games
Sunday 18th January 2015
Come along and enjoy a great fun day at one of the best & longest running nude beach days in Australia
Maslin Beach was declared Australia's first nudist beach In Australia on the 14th Of February 1974 that makes it 40 years ago next February
I have got most things organised for 18th of January 2014, just a few minor details to get sorted.
We will be adding a few new events this year.
Individual balloon race - contestants run (try to at least) from one end to the other with a balloon between their legs - no hands.
Pairs balloon race - a pair of contestants run from one end to the other with a balloon between them, no hands, balloon between their backs or fronts.
There will the favourites like frisbee throwing, sack races, three legged race, water balloon throwing, baton race, donut eating competition, Best Bum & Ms Maslin 19-34, Ms Maslin 35-50 & Ms Maslin over 50
There will be a marque selling soft drinks, bottled water & sausage sizzle - all money goes back into the cost of running the games, so please support the event & buy some drinks.
This year we have new stubby holders & draw string bags for sale as well to raise funds for the Games.
No pockets for drinks money, car keys, mobile phone you might think
No problem, we will be selling small money pouches to put your drinks money, keys etc in $5 each
If we were meant to be nude we would have been born that way!
Nude is natural, not rude
Itís free and everybody is welcome.
Enjoy a relaxed day of fun competitions on one of Adelaides most
beautiful beaches.
You are invited to join in the games or just relax in the sun.
You may choose to remain clothed or be adventurous and enjoy the beach as nature intended.
Information on nudism / naturism is
available at the marquee.
Pilwarren is a nudist venue situated on a high cliff overlooking a great view of our lagoon & the river.
Pilwarren is on the banks of the Murray River between Swan Reach & Walker Flat, opposite the township of Nildottie set on 75 acres of mallee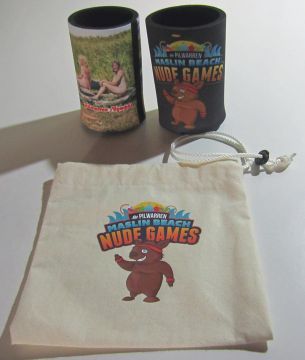 On sale at the Maslin Beach Nude Games Stubby Holders $9 Keys / phone / money bag $5
2015 Program

Time

Event

12:00

Childrenís Frisbee Throwing Competition

12:10

Adults Frisbee Throwing Competition

12:20

Official Opening

12:30

Children's Sack Race

12:40

Adult Sack Race

12:50

Swap Swap Competition

13:05

Childrenís Three Legged Race

13:15

Adult Three Legged Race

13:25

Individual Balloon Race

13:35

Pairs Balloon Race

13:45

Baton Race

14:00

Water Balloon Throwing Competition

14:15

Donut Eating Competition

14:30

Combo Competition

14:45

Water Fill Competition

15:00

Mens (Over 18) Best Bum Competition

15:15

Ms Maslin Beach Over 50

15:30

Ms Maslin Beach 35 - 50

15:45

MS Maslin Beach 18 - 34

16:00

Tug O' War
To see photographs of the 2014 Pilwarren Maslin Beach Nude Games Click Here
| | | |
| --- | --- | --- |
| | Supported by | |
| BIG4 PORT WILLUNGA TOURIST PARK | Tindo | Sunland Holiday Village |
| Yulti Wirra Inc | TAN Magazine | Wombat Social Club |
Pilwarren
292 Simpson Road Sunnydale South Australia 5353
Phone 0427701132